Burn Blunts Not Witches Unisex Long Sleeve
Size
XS
S
M
L
XL
2X
3X
4X
Stories that come with sustainable style
Like you, the planet is beautifully diverse, and we want to keep it that way. We're committed to doing our part to reduce waste, which is why we use eco-friendly inks on recycled fabric for our limited-edition slow fashion pieces. 
Our partnerships:
Printful and Threadless are our sustainable order fulfillment partners, minimizing waste and overproduction. They offer ethically sourced apparel designs with a light carbon footprint. 
Ethical practices:
Our partners prohibit forced labor and underage workers, ensuring fair compensation and benefits for all of their employees. We prioritize strict health standards so all our products are safe to use.
Upcycled clothing:
Coming soon, we will be enhancing our sustainability with upcycled fashion! Using recycled materials, we'll create unique pieces through cropping, hand-painting, and sewing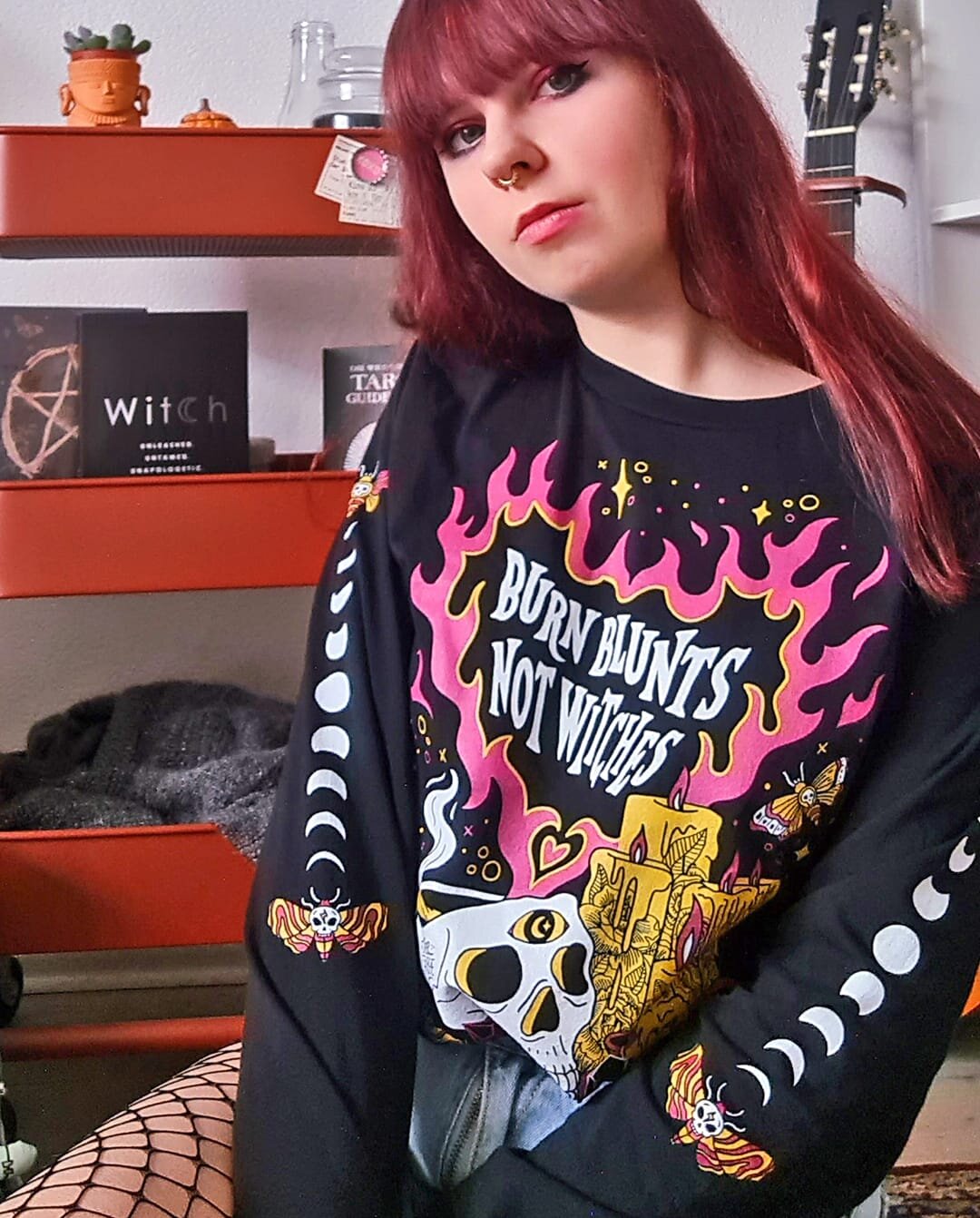 Description
Let's get high and make some magic together
Everything you could ever want in witchy stoner apparel. High-quality cotton fabric with custom moon phases and goth skull moths on each sleeve.
Soft and light with just the right amount of stretch.

Every item is made after your order to prevent waste.
Size Chart
| | | |
| --- | --- | --- |
| SIZE | LENGTH | WIDTH |
| S | 28" | 18" |
| M | 29" | 20" |
| L | 30" | 22" |
| XL | 31" | 24" |
| 2XL | 32" | 26" |
| 3XL | 33" | 28" |
| 4XL | 34" | 30" |
Return & Exchange
Can I Exchange a Product?
Whether you can exchange a product depends on the type of item you purchased. We have different policies for slow fashion, upcycled fashion, and Threadless products. Please refer to the relevant policy below based on your purchase.
Please contact support@lettershoppe.com for inquiries, and we'll respond within 1-3 business days.
Slow Fashion Exclusives:
If you're unsatisfied with your slow fashion item, you have a 14-day window to exchange it from the date of delivery. However, please note that you are responsible for the shipping costs.
Since we create each item after your order, returns can only be accepted if we receive the item back. Once received, we upcycle and resell it to minimize fabric waste.
For Exchanges:
Items for exchange must be unwashed, unworn, and pet/human hair-free.
You'll receive store credit to repurchase after we receive your item.
Store credit excludes original shipping costs.
Customers arrange their return label.
Pre-loved and Upcycled Fashion:
All gently used and upcycled fashion items are final sale, and we don't offer refunds. For more details about our upcycling process, please refer to the FAQ section. Pay close attention to care instructions, especially for hand-painted items, which cannot be ironed and must be air-dried.
Threadless:
For items purchased through Threadless, they offer a 100% happiness guarantee, allowing you to easily exchange or return them. If you encounter any issues with your purchase, please reach out to Threadless support directly for assistance or email Help@Threadless.com
Cancelling an Order:
If your order hasn't entered the printing process, we can cancel and refund it. However, once an item has been created, it can't be stopped due to our fast delivery policy.
Once it arrives, you'll need to return the item at your expense before we can issue a refund that does not include shipping costs.For orders from our Threadless catalog, please contact their customer service through the Help & Returns link on our Threadless store.
Missing Order:
If your order hasn't arrived and the address is correct, consider these steps:
If you live in an apartment complex, check with your leasing office.
If the item seems lost, contact USPS directly, preferably in person at your local USPS.
USPS can assist in locating misdelivered or undelivered packages.
If it's confirmed lost or stolen, inform us at suppport@lettershoppe.com for a refund or replacement.
Damaged Items or Wrong Order:
If you receive damaged items or the wrong order, we're here to help:
Contact us ASAP with your order number.
Provide photos of the issue and order details via email to support@lettershoppe.com.
We will issue a full refund or reorder the correct item.
Shipping Info
Making and Shipping
Our slow-fashion clothing is produced sustainably to minimize waste and environmental impact. Here's how our production and shipping process works: 
What makes our production sustainable?
Clothes are printed and shipped after orders to prevent waste.
Partnership with Printful to reduce fashion industry's environmental impact.
Aiming to reduce fabric waste compared to traditional manufacturing.
Products are OEKO-TEX certified for quality.
High-quality materials for longer-lasting products. 
How long does it take slow fashion to get printed?
Slow fashion items take 5-10 business days to print.
Most products printed in an average of 7 days.
78% of orders delivered regionally for reduced CO2 emissions. 
How long does upcycled fashion take to ship?
Upcycled items are shipped out every week.
Shipping day: Wednesday from Michigan.
Delivery times using USPS:

US: 3-5 days
Canada: 5-10 days
Europe: 7-14 days
International: 10-20 days
How long till my slow fashion items arrive?
US orders: 5-7 days
International orders: 7-15 days
Canadian orders: 15-30 days 
Why did parts of my order ship separately?
Printful has various locations for faster delivery.
Items may ship separately for efficiency.
Customization
4 ways we can customize this design to match your vibe:
Change design colors
Add personal touches (ex. names, dates, captions)
Incorporate additional design elements or illustrations
Choose different fabric or apparel for printing
Let us know how we can bring your unique vision to life! Contact us at support@lettershoppe.com to see what we can make together.